Itraconazole (Sporanox®)
For more on this Drug Safety Labeling Change, click here and here.
For full prescribing information, click here.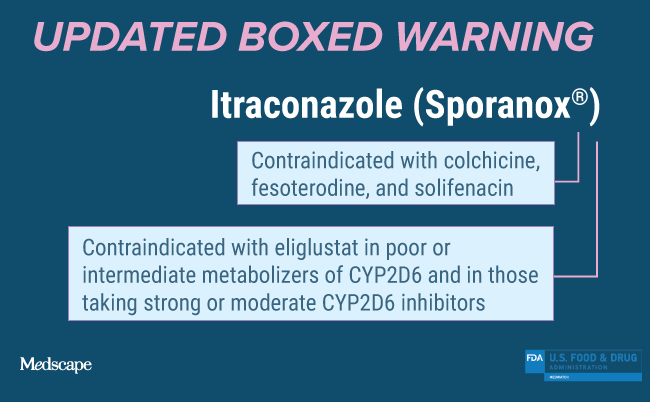 Updated Boxed Warning
Drug Interactions: Coadministration of the following drugs is contraindicated with SPORANOX® Capsules: methadone, disopyramide, dofetilide, dronedarone, quinidine, isavuconazole, ergot alkaloids (such as dihydroergotamine, ergometrine (ergonovine), ergotamine, methylergometrine (methylergonovine), irinotecan, lurasidone, oral midazolam, pimozide, triazolam, felodipine, nisoldipine, ivabradine, ranolazine, eplerenone, cisapride, naloxegol, lomitapide, lovastatin, simvastatin, avanafil, ticagrelor. In addition, coadministration with colchicine, fesoterodine, and solifenacin is contraindicated in subjects with varying degrees of renal or hepatic impairment, and coadministration with eliglustat is contraindicated in subjects that are poor or intermediate metabolizers of CYP2D6 and in subjects taking strong or moderate CYP2D6 inhibitors.
Public Information from the FDA and Medscape
Information provided by FDA and/or its employees on this website is for educational purposes only, and does not constitute medical advice. Any statement or advice given by an FDA employee on this website does not represent the formal position of FDA. FDA and/or any FDA employee will not be liable for injury or other damages resulting to any individuals who view FDA-related materials on this website.
Cite this: Drug Safety Warnings and Updates: October-December 2017 - Medscape - Feb 16, 2018.